Blow the Roof off New Year's Eve 2017-2018*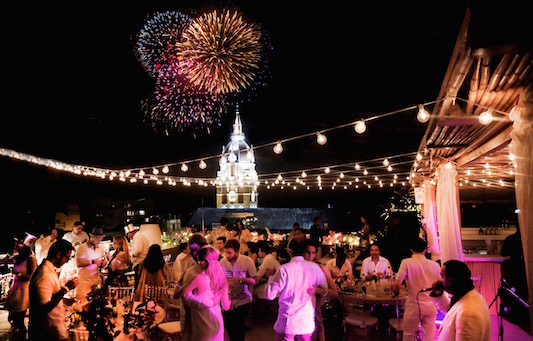 Durata: 6 Ore (circa)
Luogo: Cartagena, Bolivar
Codice prodotto: PE3A3T
Blow the roof off NYE 2016-2017 with a special rooftop view of Cartagena's colonial charms, live music, free-flowing drinks and a carnival party atmosphere.

This open-air rooftop party blew the roof off last year. Commandeering a prime spot for the high season, Cartagena's tip-top, roof-top party is a great option for partiers looking for glitz and glamour upon one of Cartagena's sparkling roof terraces.
There's no better photo opportunity than the view from this place when the clock strikes 12. Dress up to the nines - their clientele are as pristine and crisp as a flute of champagne.
DRESS CODE: Tropical chic
WHAT'S INCLUDED?
Entry to the party
DJ and Live Music from local artist, Luisk de Leon
A
Mediterranean tapas buffet by Alyzia Restaurant
A
Glass of Champagne at Midnight
The
top view of Cartagena's fireworks display
Party
Treats
A
little soup to scare away your hangover
WHO WILL ENJOY IT?
Families or friends that love a good firework display and want to
dance the night away on a lofty perch and with even loftier company