Table Reservation @ Moshi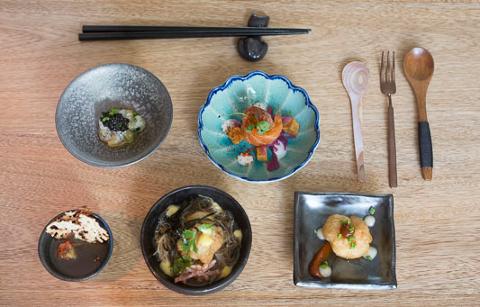 Duration : 1 Hours (approx.)
Location: Cartagena, Bolivar
Product code : PJAZ7A
Moshi likes to keep things moving. Whether it's the dynamic specials menu, which chops and changes according to the chefs inspirations or the non-stop action at the sushi bar, where diners can see all the magic happen, eating here is akin to a culinary adrenaline rush.
Of course this isn't by any means 'fast food'. Moshi's ambitious menu encourages thought and careful consideration when it comes to ordering. Not just for the Asian names, which are hard to spit out gracefully when you've already downed a couple of Sakes, but for the abundance of choice and spectrum which karate kicks
Most of us are familiar with Asian food, but Colombian/fusion is a whole new kettle of fish. Here, the ramen noodles are made with yuca, the miso soup is served with costeño cheese and plantain vinegar is used in the sushi rice. It's a complex and beautiful puzzle that can require a bit of brain re-wiring, but fear not, because the clued-up waiters are at hand to steer you in the right direction.
Not that there are any culinary dead ends on this menu. Owners, Rob Pevitts and Carmen Angel are the undisputed king and queen of fusion cuisine in Cartagena, and if you've eaten in Carmen, then you'll know that they simply don't do food norm-core.
Moshi seems to be a particularly personal venture for the couple, not least because the restaurant name and logo honours their cat, but because the menu is their ultimate dinner wish-list. It's what they cook at home or would choose to eat outside — if such another place existed.
First timers should surrender themselves to Moshi's higher powers by ordering the resplendent tasting menu, which takes you on a seriously tasty journey to Asia via Colombia. Choose between a 7 or 11 course menu with an innovative beverage pairing that includes Sakes and a fabulous range of signature cocktails.
If you are choosing off the menu, then we suggest ordering a few round of small plates and starters before hitting the main course.
The Sake Zuke is the perfect introduction to the concept of Moshi. Consisting of 5 mini portions it allows you to dip your toes into the Moshi sea of food delights.
The O-Temaki roll open hand rolls are another winner. So delicious you'll eat them with the speedy intensity of a Japanese bullet train. So order a few rounds for the group just to be on the safe side.
For mains you've got a hefty selection of rice and ramen dishes to choose from. The Bibimbam, made up of coconut rice, oxtail, mushrooms, spinach and egg yolk wrapped in a light duvet of black truffles and foie gras sauce, is sublime. Rich and comforting as a grandmothers hug, but surprising too, thanks to the myriad of textures and aromatic flavours.
The specials are worth the glance as well. The Pla Pao, is a particularly extravagant and lavish feast of a whole fish encrusted with coriander, mint and lemongrass and served with drunken noodles and a spicy fish broth. It arrives like dynamite on the table, steaming, sizzling and generally smelling out of this world. The soup is punchy, the noodles spongy and the fish flakes off beautifully onto your fork.
Moshi's Asian concept encourages you to think outside the box when it comes to drinking. You can have a bottle of red anywhere in town, so forgo the routine and order one of their cocktails instead. Designed by Liliseth Coronedo Marim they're as detailed and delightful as the food on offer, with wickedly quirky names like Crazy 88 and Hattori Hanzō.
It's things like the Kill Bill cocktail homages and the adorable cat logo which remind that there is plenty of room for fun and haut couture cuisine to sit happily under the same roof. Here the vibe is casual, but civilised. A godsend for people who think you shouldn't have to wear a ballgown and suit to enjoy incredible food.