This Is Your Day in Paradise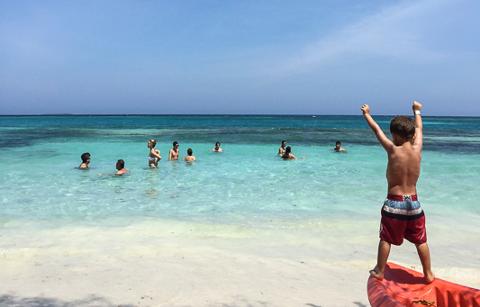 Duration : 8 Hours (approx.)
Product code : PPSPFB
Hop on board with This is Cartagena for a unique island day trip to the Rosario Islands. Cruise through Rosario's bountiful highlights with a snorkel stop in our favourite lagoon and selective spot of island hopping, before settling down for an incredible two course meal on a private, undiscovered beach retreat in Tierra Bomba, far from the rif-raf.
With over 30 islands making up the Rosario Islands, we think it would be a real shame if you only saw one, so we tailored an indulgent and interesting island day trip that delivers so much more than a basic day at the beach in Cartagena.
This seaside adventure is different in that it allows you to explore the highlights of Cartagena's captivating archipelago and clock up some tan time on a blissful beach with luxury facilities in secluded surroundings.
This is your day in paradise.
WHAT'S INCLUDED?
* Hotel pick-up (between 08:30-09:00)
* A seat on a luxury speedboat for the day
* A pit-stop for swimming / snorkelling in crystalline waters
* 2 beers or water
* Amazing 2-course lunch (a gourmet selection of starters to share and a seafood paella)
* Use of the facilities at private resort (swimming pool / sun loungers)
* Transfer from the quay to your hotel
WHAT'S NOT?
* Extra drinks – wine, spirits, additional beers
* Overnight accommodation at the beach retreat

WHO WILL ENJOY IT?
Anyone that really wants a truly, wonderful islands experience in Cartagena. Couples, friends or groups looking to either relax in Baru and the Rosario Islands, or get active swimming or other aquatic activities.
WHAT TO BRING
* Sunblock
* Swimwear
Please note that this product can be booked for one person, but we'll need a minimum of 6 people for the boat to leave and maximum of 20. If we happen to have less clients, we'll contact you to find an alternative.
* Prices may change during high season (December 15-January 15)